Photo Etch Cut-Off Set - Large

Product # SMS0

16

Product Article by Steve Bamford on Apr 26 2021
This tool set from The Small Shop is the Photo Etch Cut-Off Set - Large. Use for removing larger pieces from the PE frets. Especially useful for scale modellers.
Features of this tool:
100% Made in the USA

Two 8" x 10" black Plexiglas bases

Clear Press with Knob - 1 Large & 1 Small

Especially useful for large Naval and Railroad projects.

Makes removing PE parts from the fret a cinch!

Close accurate cuts mean little or no cleanup

Blade won't skip or break like when cutting on Glass.

Clear press allows you to see and hold the parts

Press combined with acrylic base keeps photo etch flat

Photo etch doesn't deform as when using a cutting mat or scissors

SGT. Craig Walker shown using Large Cutting Kit

Black bases provide excellent contrast

Helps keep photo etch organized

Parts donít fly away into the carpet monster

Use with a hobby knife and Excel #10 or #22 or other curved blade (not included)

Instructions included.

Minor assembly required
NOT INTENDED FOR USE BY CHILDREN UNDER THE AGE OF 14 YEARS - USE ONLY WITH ADULT SUPERVISION
More information can be found on their FAQ page.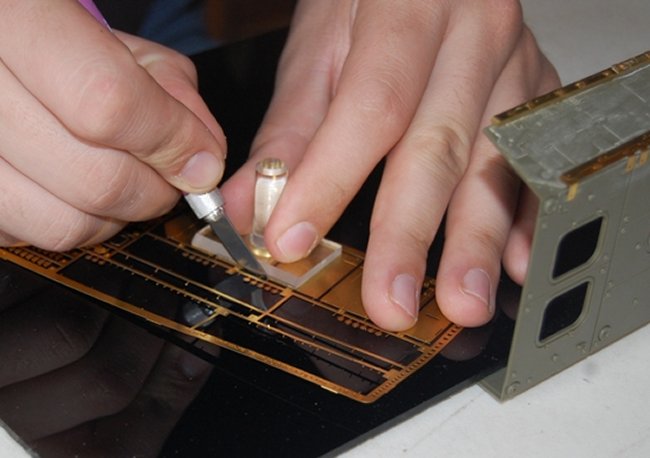 I've been a fan of the The Small Shop products since I got my first Hold and Fold long ago. They are a family run business that make very high quality product. They also carry a variety of other scale modeling tools by other manufacturers.
All their products are made in the USA.
You can purchase this and other quality scale modeling tools directly from The Small Shop or from the many retailers that carry their products.
Please check their Authorized Dealer's page for more ordering choices.
Steve Bamford
Photos and text © by Steve Bamford