This Photo Etch Bending Tool from The Small Shop is the The "BUG" RTH Hold and Fold. Loaded with Features in a Tight little Package! Perfect for close-up work! Little bends are no problem when using the "Bug"!
Features of this tool:
2" X 2 ˝" Base with a Full 2" Square Tool Head

Small but Mighty – this baby is Fully LOADED with Features

Designed for fine gauged PE found in 1:700 scale ship sets

Great for small PE in 1:350 ship or 1:72 & 1:48 aircraft scales!

Top choice for N and Z scale Railroad Modelers

Easily fits in the hand! Get up-close & personal with your PE!

Use all four sides of the tool-head never remove the Knob!

Spring-loaded Rotating Tool Head (RTH). Easily repositioned to use any edge.

Swiss Comb edge for faster boxes

Power Wedges for bending Thick Brass & More

10 Micro-bending beams for Grab Handles in wire or flat brass

Head & Base are machined from aircraft grade aluminum.

Instructions and folding blade included.

Photos using the Bug provided by José Brito.

Lifetime guarantee against manufacturing defects.
NOT INTENDED FOR USE BY CHILDREN UNDER THE AGE OF 14 YEARS - USE ONLY WITH ADULT SUPERVISION
Please Note: Reviews on the Perth Military website are of tools manufactured by the Small Shop Europe (no longer in business).
Our tools do not have "micro-thin" edges.

Rick Lawler uses our SMS002 Bug and SMS004 5 Speed on his Propaganda website Soldering – Tips and Tricks.

Excellent review of the Bug on www.raildig.com - November 30, 2011.

Carl T uses the Bug to fold the photo etch for his online build of the Sikorsky S-16 & Spad S.A-4.- February 18, 2011

Review on IPMS USA by Pablo Bauleo - September 25, 2009.

James Bella reviews "The Bug" on Armorama - over 20 photos with tips.

Saul Garcia reviews the Bug on Track-Link.
More information can be found on their FAQ page.

Please check our Authorized Dealer's page for more ordering choices.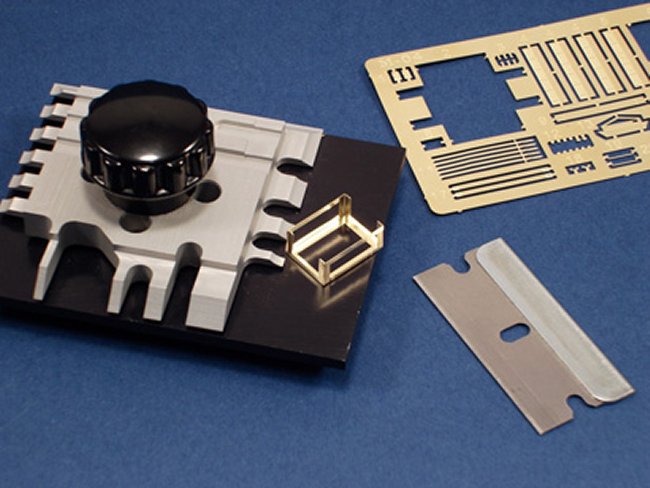 Above photo by José Brito
I've been a fan of the The Small Shop products since I got my first Hold and Fold long ago. They are a family run business that make very high quality product. They also carry a variety of other scale modeling tools by other manufacturers.
Click this link for other Photo Etch Workstations.
All their products are made in the USA.
You can purchase this and other quality scale modeling tools directly from The Small Shop or from the many retailers that carry their products.
Steve Bamford