Zactomodels has released a series Russian missiles in 1/32 scale to go with their other resin goodies for the 1/32 MiG-29 and the 1/32 Su-27. And to hang the wing tip missiles on your next 1/32 Su-27......you can use these lovely resin wing tip resin pylons or you can use these pylons to replace the inaccurate kit wing tip pylons.
This resin set includes two 1/32 Wingtip Pylons for the Su-27. As you can see in the photos above and below, the original kit parts are not as accurate as they could be and these resin wing tip pylons will fix those accuracy issues. These pylons correct the size, shape and angle of pylons and well as the position of missile and navigation light.
This set includes 2 pylons with mounting pins for mounting the pylons to your wings. In this link you can see an In-Progress thread at ARC.
Resin casting is of a very high quality and all the detail is very well done with no air bubbles. These resin pylons are loaded with fine recessed details that you can see in the photos above with the black background. Another cool thing is the detail of the clamps on the underside of the pylons where they meet up with the missiles....a wash will help to show off the recessed detail of these clamps.
You get one page of instructions with text and line drawings that point out all the important things you need to know when installing the resin wing tips pylons.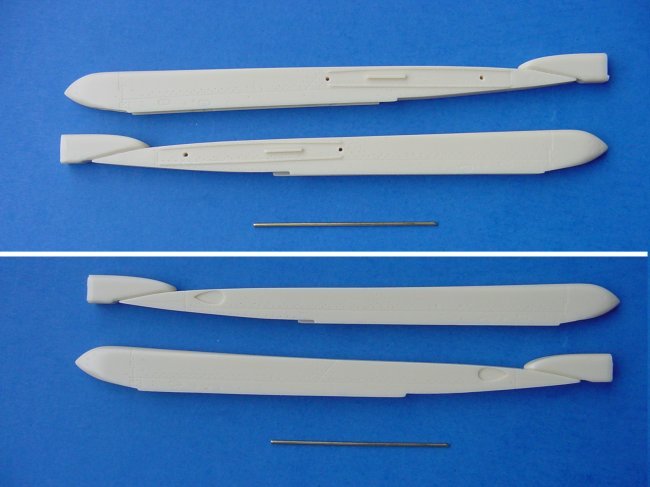 If you are going to hang wingtip missiles on your next 1/32 Su-27 or if you want accurate pylons instead of the pylons that come with the kit, then you really should pick up this set and get the correct shape and lovely detail of these pylons.
I would like to thank Chris at Zactomodels for providing me with this product sample.
Steve Bamford